About Vision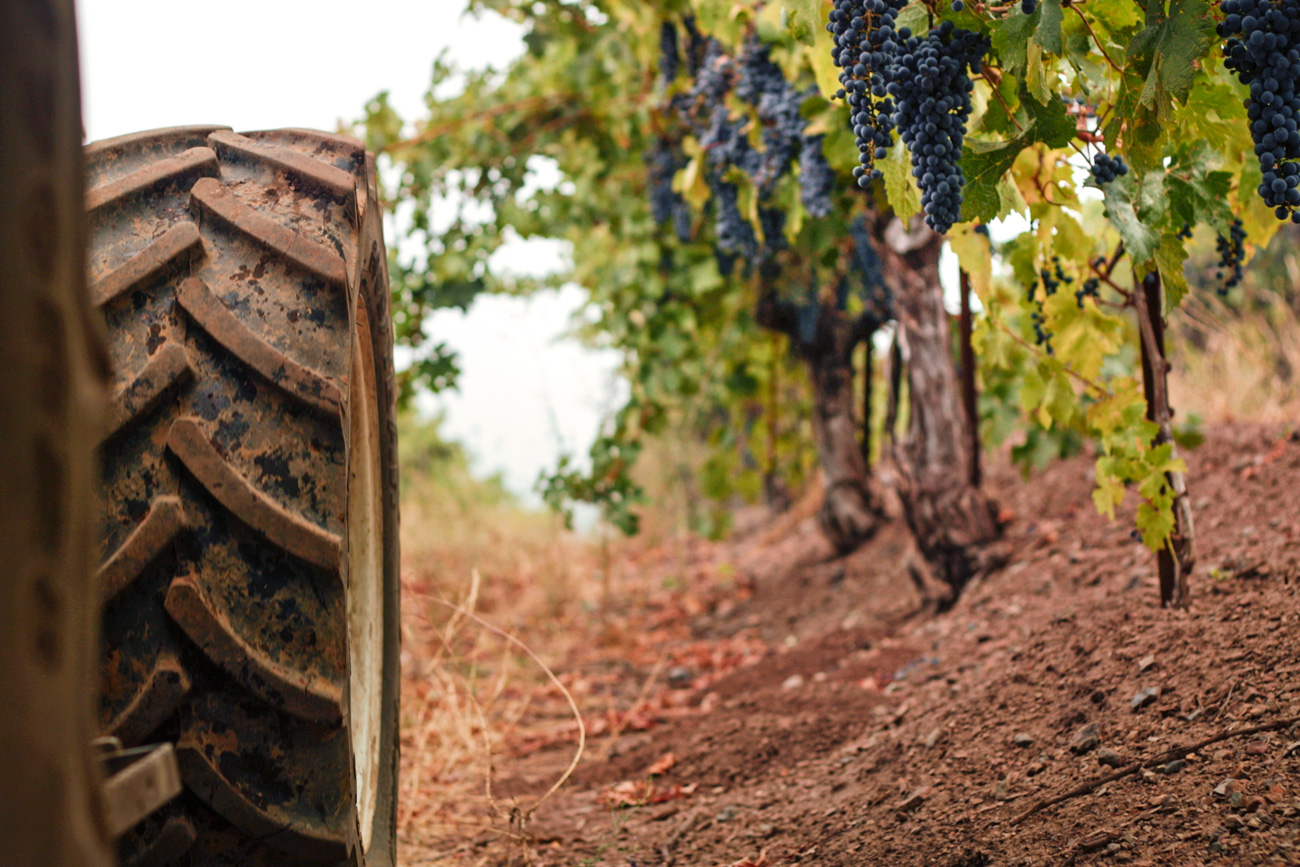 Founded in 1996, DuMOL is a vineyard focused producer of cool-climate Pinot Noir and Chardonnay from distinctive vineyards in the extreme southwestern part of the Russian River Valley. We also grow and craft small-lot Syrah, Cabernet Sauvignon, and Viognier from exceptional vineyard sites in Sonoma and Napa, expanding upon twenty-five years of winegrowing experience.
Through precise attention to detail in the vineyards and vintage-specific winegrowing and winemaking, we aim to create wines that highlight the purity of place. Our small team is dedicated to our portfolio of Estate, leased, and grower-partner vineyards. DuMOL wines are released through limited allocations to our consumer mailing list and select restaurants worldwide.
About Team
We live the wine. It's not just a vocation. It's very much who we are. Both livelihood and passion. It's what gets us up in the morning. This is a project that comes from who we are and what we love.
About Press
There's tremendous personal satisfaction in creating wines that inspire contemplation – and we are encouraged by the feedback our efforts have garnered.
Elite California Pinot Noir Vineyards
Rusty Gaffney
Dutton Ranch Jentoft Vineyard: The winemaker and co-owner of DuMOL, Andy Smith, says, "It's a brilliant site." DuMOL's first bottling as a vineyard-designate Pinot Noir was the 2017 vintage. The hallmarks of this vineyard are deep roots, thick fog and a prolonged and steady growing season. 2017 Jentoft Vineyard Ryan Pinot Noir: 94 Points 2018 Jentoft Vineyard Ryan Pinot Noir: 97 Points
Sonoma: Looking at the 2019s
Jeb Dunnuck
Starting with some of the classic, benchmark Sonoma estates, readers should look to DuMOL, Kistler, Kosta Brown, Paul Hobbs, Ramey, Rochioli, and Williams Selyem, to name just a few. DuMOL, under the guidance of Andy Smith, continues to make brilliant, classic wines that certainly have an Old World slant in a fresher, more structured style, yet these wines never lack for fruit.
Wine Spectator Insider Hot Wines
Kim Marcus, Wine Spectator
2019 DuMOL Highland Divide Pinot Noir, 95 Points: "Lithe and powerful, with concentrated plum pastry and cherry tart flavors that are well-knit. Minerally midpalate, with a fine-grained finish that is filled with rich savoriness and lush spiciness. Drink now through 2026. From California." —K.M.
Antonio Galloni Reviews our 2018 Vintage
Vinous Media
"My tastings at DuMOL are usually pretty epic, as I sample two vintages of pretty much the entire range. The pandemic made a visit this year impossible, so this report focuses on the bottled 2018s. The wines are brilliant across the board, just as they were from barrel. Winemaker Andy Smith describes 2018 as a year with moderate temperatures, especially at harvest time, which allowed for picking tiny sections of vineyards in small, separate passes. From top to bottom, this is an impressive lineup."
California's Wine Industry: On The Road To Recovery
Matthew Luczy, Decanter
"Other northern California wineries found themselves in more fortunate situations. Some are hedging their bets against minor smoke damage, others have found no evidence of it. DuMOL's Smith explains...'I had picked two vineyards before the fires, and the rest before the smoke descended. I made 90% of what I planned to make. At this stage, I see no smoke taint. I don't want to jump the gun, but what I have in barrel could be some of the most exciting wines I've ever made.'"
Napa Valley's Thrilling 2018 Vintage
Antonio Galloni, Vinous
"These three 2018 Cabernets from DuMOL are superb. The wines are deep, polished and so expressive of place...readers will want to check out these sublime Cabernets from winemaker Andy Smith and his team."
Winter Whites
Jancis Robinson
"Producers whose Chardonnays manage to combine complexity and density with heft, and whose wines can also be found outside the US, include DuMOL, Kistler, Kongsgaard, Mount Eden, Pahlmeyer, Ramey and Ridge Vineyards."
Top 100 Wines of 2020
Jeb Dunnuck
"The 2018 Pinot Noir Finn...is the finest Pinot Noir I've tasted from DuMOL."
USA, California: Sonoma County 2018 Vintage
Erin Brooks, The Wine Advocate
"Some producers made potential 'career' wines in 2018, and the lineup of wines from … Dumol [is] the best I have ever tasted."
Sonoma: Another Brilliant Vintage in 2018
Jeb Dunnuck
"This was easily the finest set of releases I have tasted from winemaker Andy Smith."
Hooray for Chardonnay: A Global Guide to the World's Best Bottles
Wine Enthusiast
While still wildly popular, Chardonnay in Napa and Sonoma trends more specialized and site-specific. Grape growers and winemakers now give it the same thought and scrupulous attention once reserved for Cabernet Sauvignon and Pinot Noir...Such effort shows in some of our favorite selections, which come from relatively cool sites and small producers.
Seeing 20/20 – Sonoma & Anderson Valley Preview
Antonio Galloni
Super-impressed...Andy Smith continues to grow the range thoughtfully. The Chardonnays and Pinots remain the strong suits, mostly because they form the core of the range and have really been fine tuned over time....The wines are rich, deep and full of character....Both the 2017s and 2018s are vivid and super-expressive.
DuMOL and the Great Scot
Tim Fish
Other Sonoma County estates may produce a broad range of wines, but DuMOL is among the few that have mastered Pinot Noir, Chardonnay, Syrah and Cabernet Sauvignon.
Sonoma: 2017 Vintage
Erin Brooks, The Wine Advocate
2017 was a great vintage for this estate, and Smith says, "2017 is one of my favorite vintages for Chardonnay. We had lots of tiny berries with thick skins, which plays right into our style."
Visiting Sonoma
Rose Murray Brown
One of my missions on my recent California trip was to find decent Chardonnay and Pinot Noir which could compete with Burgundy.
15 Delicious Chardonnays to Drink Now
Food & Wine Magazine
The top wine in a blind tasting of 17 Sonoma Chardonnays I participated in recently in California, DuMOL's Wester Reach is savory and complex, its firm acidity highlighting its exotic citrus (think yuzu), tree fruit (white peach), and spice flavors.
The 2017s From Sonoma
Jeb Dunnuck
The 2017 Flax Estate Vineyard Pinot Noir is a complete, complex, brilliant Russian River Valley Pinot Noir that's going to have two decades of longevity.
Best New Releases from Sonoma and Beyond
Antonio Galloni
Andy Smith and his team turned out a brilliant set of wines in 2017 ... The bottled 2016s are just as compelling from bottle as they were last year from barrel.
Uncorked in Napa Valley...
Chandra Kurt
The DuMOL wines rank as absolute Chardonnay highlights...the energy and force in this dynamic [2016 Hyde Vineyard] Chardonnay are evident at the first sip.
California Eden
Rose Murray Brown MW
What sets Smith apart from his winemaking peers is his vineyard experience and his relentless experimentation to achieve perfection.
Washington Wine Blog
Dr. Owen Bargreen
I am not going out on a limb by saying that this is an extraordinary new lineup by DuMOL. It is hard to find a winery that provides the depth of lineup that DuMOL exudes.
Scores Aren't Everything & Best of 2018
Lisa Perrotti-Brown, The Wine Advocate
Producing lots of small lots of wines from a small selection of different grape varieties (Pinot Noir, Chardonnay, Cabernet Sauvignon, Viognier and Syrah)—the standard of quality and expression of site is phenomenally consistent at DuMOL with too many great new releases to recommend individually. What's more, the prices for the quality (most wines are $60-$80 per bottle on mailing list release) will blow you away. This is one mailing list you don't want to miss being on.
Wineries to Watch in 2019
Rose Murray Brown
As viticulturalist and winemaker . . . [Andy Smith's] style has evolved from richer wines to subtler lighter styles. His range is superb, I particularly enjoyed DuMOL Pinot Noir 2009 from his Coffee Lane vineyard.
The Story of California Chardonnay
Elaine Chukan Brown for JancisRobinson.com
By 2003 when the winery began planting their own estate vineyard in the Russian River Valley known as Green Valley, Smith made the decision to establish a vineyard in a manner that would support greater freshness but also more nuance in the wines.
How to be the perfect host(ess)?
Jancis Robinson
My plan had been to serve a California Chardonnay from the cool Sonoma Coast – made, incidentally, by a Scottish winemaker – DuMOL's Isobel Chardonnay 2013.
Where the Wild Things Are
Lisa Perrotti-Brown, The Wine Advocate
Andy Smith has been the viticulturalist and winemaker at DuMOL for 20 years. His crafting of the Chardonnays and Pinots has edged notably towards a more elegant and refined style over the years.
Brilliance from Sonoma
Jeb Dunnuck
Stylistically, Smith makes a fresh, vibrant style of wine, yet I never find them lacking for depth and or texture....[The] Chardonnays... are made in a reductive, age-worthy style and the clear majority have distinctly Burgundian profiles... [and] the top Pinot Noirs are certainly up with the crème de la crème of the region. ...DuMol also produces a handful of world-class Syrahs, as well as one of the top examples of Viognier coming out of California. Both the 2015s and 2016s reviewed here are terrific wines...
Sonoma's Stellar 2016s
Antonio Galloni
My tasting at DuMOL was one of the highlights of my January trip to Sonoma…2016 and 2015 are fabulous back to back vintages at DuMOL. This range is seriously impressive.
Washington Wine Blog
Dr. Owen Bargreen
The current releases by DuMOL were outstanding across the board. One of the great California Chardonnays that I have tried in the past year...
BBC Scotland
BBC Scotland
Andy Smith once swam competitively for Scotland; now he's making Napa Valley wines drunk by royalty and presidents.